This is a movie review of Ghost Town with Ricky Gervais, Greg Kinear, and Tea Leoni. Original Release 2008.

Plot Summary (courtesy of Netflix):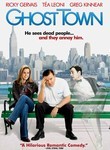 British funnyman Ricky Gervais ("The Office," "Extras") stars in his first feature film lead as Bertram Pincus, a hapless gent who's pronounced dead, only to be brought back to life with an unexpected gift: a newfound ability to see ghosts. When Bertram crosses paths with the recently departed Frank Herlihy (Greg Kinnear), he gets pulled into Frank's desperate bid to break up his widowed wife's (Téa Leoni) pending marriage to another man.

Run Time: 102 Minutes

Movie Review:

I thoroughly enjoyed this movie. Frank Herlihy (Greg Kinnear) starts off the movie so you think he is the main character but the movie actually revolves around Bertram Pincus (Ricky Gervais) who goes into the hospital for a routine operation and starts seeing people. He realizes they are dead so he goes back to the hospital to find out that he actually died for 7 minutes. Do you think they were going to tell him? Of course not.

Mr. Pincus (dentist by trade) is a stuffy man who hates life and everyone in it. He feels that everyone is in his way and tries to avoid people at all costs. He is self-centered and mean most of the time. Over the course of the movie he gets funnier and funnier as his dry humor comes out.

In the end he realizes that he needs people and he comes out of his selfish shells to help others. I shed a tear at the end. This movie had twists and turns that I didn't expect and all three main characters were great. I definitely think you should check out Ghost Town because you will be pleasantly surprised at the storyline.

Movie Review photo credit: Netflix

Overall Movie Review Rating: I rate this movie as a Must See - 4.5 stars
Tweet this!